Physiotherapy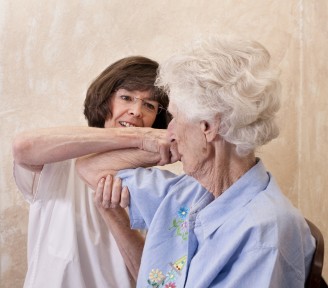 Quality Aged Care Services Physiotherapists are passionate about making a profound difference to the quality of life of the older person through the promotion of mobilty, function and independence.

Our expert and dedicated team provide physiotherapy of the highest standards using evidence based best practice to residents of aged care across all communities.

Through the development of close relationships with both residents and staff, Quality Aged Care Physiotherapists will quickly become valued members of your facility team.
We Offer Residents

We Offer Residents

Comprehensive physiotherapy assessments and regular reviews


Individualised care plans specific to every resident's needs


Individualised pain management program for all residents who suffer chronic pain


Continuous falls/incident analysis and assistance with falls reduction strategies


Advice and provision of best available aids, appliances and equipment.



This benefits the residents in achieving greater mobility and dependence, as well as feeling stronger, more confident and having a greater sense of well-being.

We Offer Facilities

We Offer Facilities

Assistance with Accreditation support over a range of accreditation standards including:

Standard 2.3 Education and staff development

Standard 2.4 Clinical care

Standard 2.8 Pain management

Standard 2.11 Skin care

Standard 2.14 Mobility, dexterity and rehabilitation

Standard 4.5 Occupational health and safety




Assistance with maximising ACFI funding by liaising with management and the ACFI team


Providing a complimentary and risk free ACFI audit on request


Documentation systems of the highest standards that surpass all ACFI requirements and accreditation standards, with regular reviews and comprehensive handover


Transparent audits and compliance evidence based record keeping of interventions for ACFI Complex Health Care Questions 4a and 4b for ACFI validation purposes


Assistance with falls analysis and implementation of appropriate falls reduction strategies


Manual Handling training for clinical and non-clinical staff that incorporates injury prevention for all staff


Meet with management and key ACFI/Clinical staff to conduct a thorough systems review including:

Current documentation systems

ACFI structure and review schedule

GAP analysis

Appraisal process

Cost/benefit analysis of potential ACFI claims

We Offer Staff

We Offer Staff

Staff education and training to further their knowledge in all physiotherapy related areas including:

Implementing prescribed exercises for residents

Integration of group exercises/ activities with lifestyle / well-being programs

Pain management

Falls management and minimisation

Safe use of all equipment and appliances commonly used in aged care facilities

Position and pressure area care

Optimal seating options

Manual Handling induction training and ongoing reviews of manual handling practices

Principals of injury prevention
Quality Aged Care Services Physiotherapists can tailor a package for your physiotherapy requirements to suit your facilities needs with a competitive and simple cost structure basis.
After the initial assessment of mobility and function by the Quality Aged Care Services Physiotherapist, an ongoing care program will be implemented, which may include individual or group interventions, and will be regularly reviewed.